The demonstration was organized by Teens For Gun Reform, an organization created by students in the Washington, D.C., area in the wake of Wednesday's shooting at Marjory Stoneman Douglas High School in Parkland, Florida.
Protesters participated in what they said would be a three-minute lie-in, which began around 12:30 p.m. on Presidents Day. They lay down in front of the White House "in representation of the victims of school shootings," according to a post on the group's Facebook page.dogu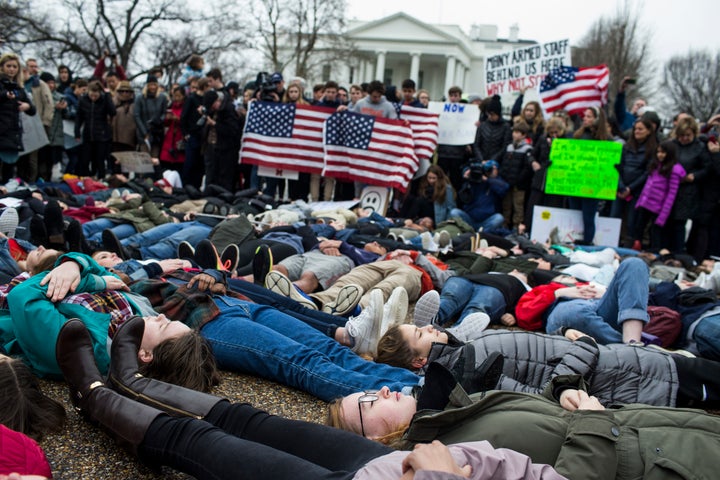 "By doing this, we will make a statement on the atrocities which have been committed due to the lack of gun control, and send a powerful message to our government that they must take action now," the group wrote on Facebook.
Following the lie-in, protesters continued to hold signs in support of stricter guns laws and shouted phrases including "Shame on you" and "Disarm hate" toward the White House. The group also chanted "No more deaths," "Am I next?" and "Hey, hey, NRA, how many kids have you killed today?"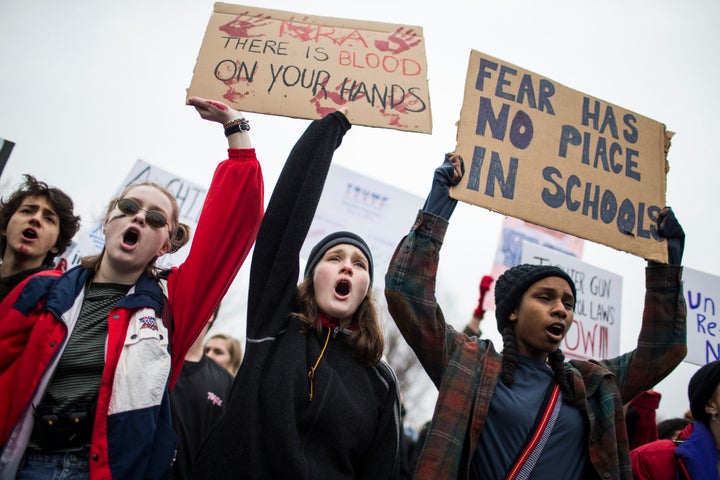 Last week's massacre at the South Florida high school, in which a 19-year-old former student opened fire using an assault-style rifle, sparked protests and calls to action from students nationwide.
A group of students who survived the Parkland shooting have been outspoken in their criticism of Trump and lawmakers who receive financial contributions from gun lobbying groups such as the National Rifle Association.
Whitney Bowen and Eleanor Nuechterlein, both 16-year-old high school students from the D.C. area, started Teens For Gun Reform just two days after the Parkland shooting.
We might be 16 now and we might not be able to vote, but we can protest and we can use social media and we will make our voices heard.Whitney Bowen, co-founder of Teens For Gun Reform
"You never wake up thinking it's going to be your school or it's going to be your friends or family," Bowen told HuffPost. "The Parkland kids didn't either. … They woke up and went to school for the last time because there's not enough gun control."
Monday's protest at the White House was planned on Presidents Day for symbolic reasons, Nuechterlein said. It's not enough for President Donald Trump and other politicians to say "sorry" after school shootings, she said, they also need to start taking real legislative action to prevent them from happening.
Both Bowen and Nuechterlein said they plan to attend next month's march on Washington.
"We might be 16 now and we might not be able to vote, but we can protest and we can use social media and we will make our voices heard," Bowen said. "At the end of the day, it doesn't come down to politics. It comes down to kids dying in classrooms."
Elodie Camus, a 15-year-old student at the British International School of Washington, D.C., participated in the White House protest Monday with her mother
.
U.S. gun laws "have put so many people in danger over the years in this country and there needs to be reform," Camus told HuffPost, adding that she no longer feels "safe at all" at school.
"Something needs to be changed so not as many people are harmed," she said.
Felicia Garber, whose two daughters survived the Parkland shooting, was in D.C. with her family when she heard about Monday's protest and decided to attend the demonstration.
"We felt it was important to be present and thank the people who felt it was worth coming out here on this cold, dreary, rainy holiday to help let whoever is in this beautiful White House know that we will not take this any longer," Garber told HuffPost.
"These legislators need to step up for our children and not just for these lobbyists," she continued. "[Parkland] kids are smart, educated, savvy … and they are outraged. These are young adults who are ready and unforgiving, and I can only hope this is the beginning of the change they can create for our country."
Several other student-led protests against gun violence erupted across Florida on Monday. Students staged a walk out at Olympic Heights Community High School in West Boca Raton, while parents joined their kids in front of American Heritage School in Plantation just 30 miles to the south.
See video and more photos of the D.C. protest below: