Posted by rogerhollander in Australia, Criminal Justice, LGBT.
Tags: australia, australia law, gay bashing, gay panic, gay rights, homophobia, lgbt, mary elizabeth williams, panic defense, queensland, roger hollander
1 comment so far
Monday, Jul 16, 2012 11:10 AM EST, www.salon.com
Believe it or not, there are still places where an alleged killer can claim the victim was coming on to him
(Credit: Lynn Watson via Shutterstock)
Who could use a reminder today that not all Christians are homophobic lunatics trying to bend the Bible to justify their bigotry? Meeeeeee!
So let's give props to the Catholic priest Rev. Fr. Paul Kelly of Maryborough, Australia, who took a stand against — and illuminated the horrific stupidity — of one his nation's most cruelly backward laws. As Father Kelly explains in the Change.org petition he started, "A loophole in Queensland law allows people accused of murder to defend themselves in court by claiming 'gay panic' — that is, if someone who they think is gay 'comes onto' them, the sheer panic they feel is partial justification for murder." And you thought Stand Your Ground was dangerously insane? There are places in the world where the mere perception that someone of your own gender might be into you gives you the right to kill him or her.
As Father Kelly writes, "A man was killed in my church's grounds, and one of his killers used this same 'gay panic' defense. They were eventually acquitted of murder." In 2008 Wayne Robert Ruks was punched and kicked to death by two men at the church. His killers claimed Ruks "made homosexual advances" and tried to grab Pearce's crotch. They were jailed for the lesser charge of manslaughter.
Ruks' family, by the way, has stated that he wasn't gay. And Opposition Leader Campbell Newman argues that "It's important to note that the defense of provocation is not based on one sexuality, it's open to any Queenslander." But the Queensland government vowed six months ago to close the legal loophole that would allow a defendant to use the claim of nonviolent homosexual advances as a justification for killing in Queensland.
Sadly, that promise recently fell through. Attorney-General Jarrod Bleijie confirmed Monday that "The Liberal National Party remains tough on crime. However, given these laws are yet to be tested, (it) does not intend to make any further amendments to the provocation defense at this time." He described any amendment to existing law as "unnecessary."
As Father Kelly says, "I'm utterly appalled that a law that so revoltingly and openly discriminates against gay people is still tolerated in a modern society. Laws like the 'gay panic' defense are a crucial part of legitimizing and reinforcing a culture of hate which means that 73 percent of gay and lesbian Queenslanders are subjected to verbal abuse or physical violence for their sexuality." And while we're being revolted here, let's add the fact that loopholes like this are hurtful to gay and straight citizens alike. They tell everyone that any paranoid freak has the right to interpret their actions as some big scary gay come-on and bash their heads in accordingly.
As a person who had this happen in his own parish, Father Kelly can speak with unique authority on why this is utter BS. He seems like a pretty cool guy in general. If you leaf through some of his recent sermons online, you'll see a man who preaches to his flock about the value of "wisdom, understanding, knowledge, counsel, courage, reverence and wonder," and who tells them that "fear is the great enemy." He's doing the work a spiritual leader is supposed to do – inspiring social change and positive action. His online campaign has in recent days caught fire, garnering 163,000 signatures, including Stephen Fry's. It's also created a Twitter storm against "#gaypanic" and earned the endorsement of Kelly's fellow clergy. Over the weekend, Capetown Catholic priest Father Stefan Hippler tweeted his "support for my brother priest in Australia and his campaign." Hippler, by the way, is busily and fiercely fighting for tolerance among his own followers, most recently condemning Uganda's Catholic bishops for speaking in favor of "traditional family and its values" within a culture that punishes homosexuality with death.
In a world where people are still so freaked out by the mere idea of homosexuality — by the possibility of a same-sex gesture — that they can use it to justify the most violent and despicable acts, we all need to speak out and say this is beyond wrong. That this is stupid. We cannot as a society excuse repellent behavior; we have to strike down outdated laws that protect it. And to do so, we desperately need people who have a voice and a platform. Maybe even a pulpit, guys. Father Paul Kelly was personally affected by an unspeakable crime at his doorstep, so he's doing something about it. He's fighting hate with humanity, ignorance with light. Because that's exactly what Christians are supposed to do. Thanks for the reminder, Father.
Mary Elizabeth Williams is a staff writer for Salon and the author of "Gimme Shelter: My Three Years Searching for the American Dream." Follow her on Twitter: @embeedub. More Mary Elizabeth Williams.
Posted by rogerhollander in Uncategorized.
Tags: assange, australia, freedom of information, government secrecy, Media, peace, peace prize, roger hollander, sydney peace foundation, wikileaks
add a comment
Published on Wednesday, May 11, 2011 by
Reuters
WikiLeaks founder receives the Sydney Peace Foundation's gold medal for 'championing people's right to know'
Wikileaks' Australian founder Julian Assange, who enraged Washington by publishing thousands of secret US diplomatic cables, has been given a peace award for "exceptional courage in pursuit of human rights".
Julian Assange was presented with the Sydney Peace Foundation's gold medal at the Frontline Club in London. (Photograph: Stefan Wermuth/Reuters) Assange was awarded the Sydney Peace Foundation's gold medal on Tuesday at the Frontline Club in London, only the fourth such award to be handed out in its 14-year history. The not-for-profit organisation is associated with the University of Sydney and supported by the City of Sydney.
Assange, who is fighting extradition from Britain to Sweden over alleged sex crimes, was praised for "challenging centuries-old practices of government secrecy and by championing people's right to know".
"We think the struggle for peace with justice inevitably involves conflict, inevitably involves controversy," the foundation's director, Professor Stuart Rees, said.
"We think that you and WikiLeaks have brought about what we think is a watershed in journalism and in freedom of information and potentially in politics."
Rees criticised the Australian government, saying it must stop shoring up Washington's efforts to "behave like a totalitarian state", and said the foundation was "appalled by the violent behaviour by major politicians in the United States".
WikiLeaks caused a media and diplomatic uproar late last year when it began to publish its cache of more than 250,000 US diplomatic cables, revealing secrets such as that Saudi leaders had urged US military action against Iran. Some US politicians said WikiLeaks should be defined as an international terrorist organisation.
Assange himself claimed publication of the cables helped shape uprisings in north Africa and the Middle East and said WikiLeaks was on the side of justice.
© 2011 Reuters
Posted by rogerhollander in Environment.
Tags: advertising, australia, carbon, carbon dioxide, carbon emissions, clean coal, climate change, coal, coal contamination, coal emissions, coen brothers, environment, false advertising, fossil fuels, fred pearce, greenpeace, greenwash, kevin rudd, miliband, new generation coal, roger hollander, tv advertising
add a comment
Misleading and duplicitous ads on 'clean coal' cannot camouflage the stench of fossil fuels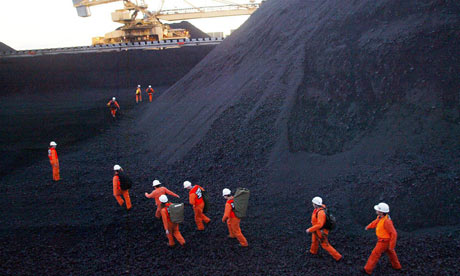 Greenpeace activists disrupt coal loading at the world's largest coal port at Newcastle, Australia Photograph: EPA
The fightback begins here. Well, we can hope. The misleading and downright duplicitous ads against clean coal chronicled here are now being contested by – you guessed it – an ad.
Last week the Academy-award winning movie producers Joel and Ethan Coen began airing their commercial on cable TV in the US. It is a spoof air freshener advert with a suburban housewife spraying her home with a coal-black aerosol from a can called Clean Coal. Explaining the magic ingredient, the presenter says that "Clean Coal harnesses the awesome power of the word clean".
It ends with the caption for anyone with a comedy bypass: "In reality, there is no such thing as clean coal."
Meanwhile, a thick spray of the white stuff in Washington DC couldn't prevent some 2,000 protesters gathering at the Capitol Hill power plant to protest that the plant burns coal to provide steam heating for the federal legislature's cavernous halls.
The snow did allow a mocking Fox News to report that the scene was "reminiscent of a day in January 2004 when Al Gore made a major address in New York – on one of the coldest days in the city's history." They really can't get over Gore, can they?
But we all have our obsessions, and I fear that the alliterative power of "clean coal" is destined to reoccur in this column. It is just so pervasive and so toxic. It seems capable of camouflaging every stench of the industry. And even the distant prospect of it is just so damned convenient for politicians caught between coal and environment lobbies.
In Britain, the prospective "clean coal" technology known as carbon capture and storage looks like it is being lined up as a fig leaf for the construction of new coal-burning power plants. How else can one explain contradictory messages from ministers in recent days?
This week the word from Whitehall has been that a decision on the Kingsnorth power plant, likely to be the first of several such plants, had been delayed until the autumn, while the cabinet minister responsible for both energy and climate policy, Ed Miliband, conducted a review of coal policy because of climate concerns.
But I am having trouble reconciling that with last week's speech by energy minister Mike O'Brien at a coal industry conference in London where he said "we will need new fossil fuel plants, including coal" to meet a "generation capacity gap by 2015″.
Which is it to be? Watch out for "clean coal" to bridge the climate gap. But we may be asked to glossed over the fact that, as O'Brien helpfully explained, Britain's first project to see if it can make the technology work at an actual power station won't begin its first tests until 2014 – a bit late to plug an energy gap a year later.
The doublespeak is in overdrive right now in Australia, from where reader Patrick has sent me updates on the launch of the Australian Coal Association PR campaign New Generation Coal. It has a multi-million dollar media budget for promoting clean coal.
We should be grateful that, like its counterparts round the world, the ACA now concedes that climate change has to be beaten. And unlike many countries, the Australian $40-billion coal industry is spending a few tens of millions of dollars a year on R&D into carbon capture and storage.
But it is small stuff that they are selling big. And one snappily-titled project, Zero-Gen in Queensland, is reportedly on the brink of collapse because of a funding dispute between industry and government.
The Australian industry's claim that carbon capture and storage will be "commercially viable by 2017″ is far-fetched to say the least.
Nobody else in the world thinks that is possible. And that, I'd guess, includes the Australian government, which recently snubbed UN climate negotiators by setting itself a derisory target of reducing domestic CO2 emissions by just 5% by 2020.
Australia is built on coal. It gets 80% of its electricity from burning the stuff. But domestic emissions are just the start. It is also the world's largest exporter. As another reader Dave points out, Newcastle in New South Wales is the world's busiest coal exporting terminal, sending abroad 80 million tonnes of the black stuff every year, mostly to fast-growing Asian economies like China and Thailand.
So not only are Aussie greenhouse gas emissions among the world's highest (per head of population, more than twice those of Britain) they are also doing their best to bump everybody's up as well.
Until its Labor prime minister, Kevin Rudd, starts doing something about that, his claimed green credentials will be just greenwash.
• How many more green scams, cons and generous slices of wishful thinking are out there? Please email your examples of greenwash to greenwash@guardian.co.uk.