Posted by rogerhollander in Health, Sports, Women.
Tags: baseball, boomer esiason, child, Daniel Murphy, jimmy rollins, major league, melissa isaacson, Mike and Mike, Mike Golic, Mike Greenberg, mlb, New York Mets, Noah Syndergaard, Paternity Leave, roger hollander, terry collins
add a comment
Roger's note: First an openly gay football player in the NFL.  Now Major League baseball players taking paternity leave.  What is this world coming to?  Next thing you know, men will be sharing their feelings.  With other men!  Scary.
Mike Golic and Mike Greenberg react to the criticism of Mets second baseman Daniel Murphy's decision to miss the first two games of the season for the birth of his first child; http://www.espn.go.com, April 4, 2014
NEW YORK — New York Mets second baseman Daniel Murphy on Thursday calmly deflected talk-radio criticism of his decision to miss the first two games of the season for the birth of his first child.
"I got a couple of text messages about it, so I'm not going to sit here and lie and say I didn't hear about it," Murphy said about the on-air criticism from WFAN Radio of his decision. "But that's the awesome part about being blessed, about being a parent, is you get that choice. My wife and I discussed it, and we felt the best thing for our family was for me to try to stay for an extra day — that being Wednesday — due to the fact that she can't travel for two weeks.
"It's going to be tough for her to get up to New York for a month. I can only speak from my experience — a father seeing his wife — she was completely finished. I mean, she was done. She had surgery and she was wiped. Having me there helped a lot, and vice versa, to take some of the load off. … It felt, for us, like the right decision to make."
After receiving word about 11:30 p.m. Sunday that his wife's water had broken, Murphy traveled from New York to Florida and arrived in time for the birth of 8-pound, 2-ounce son Noah at 12:02 p.m. Monday — about an hour before the first pitch of the Mets' opener against the Washington Nationals.
The Mets had Tuesday off before resuming the series Wednesday. Murphy remained with his family through Wednesday, as he was placed on paternity leave, and rejoined the Mets in time for Thursday's afternoon game against the Nats.
"You're a major league baseball player. You can hire a nurse," Mike Francesa reportedly said of Murphy on WFAN Radio during Wednesday's show. "What are you gonna do, sit there and look at your wife in the hospital bed for two days?"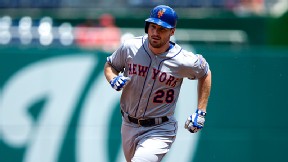 AP Photo/Evan VucciSecond baseman Daniel Murphy missed the Mets' first two games of the season to be in Florida with his wife, Tori, for the birth of their first child.
Murphy said his wife delivered their son by C-section. On another WFAN show, host Boomer Esiason said, in part, that Murphy's wife should have had a "C-section before the season starts."
Esiason issued a lengthy apology Friday at the start of his radio show.
"I just want to say again on this radio show that in no way, shape or form was I advocating anything for anybody to do. I was not telling women what to do with their bodies. I would never do that," he said. "That's their decision, that's their life and they know their bodies better than I do. And the other thing, too, that I really felt bad about is that Daniel Murphy and Tori Murphy were dragged into a conversation, and their whole life was exposed. And it shouldn't have been."
Mets manager Terry Collins said the criticism was unfair.
"I'm sure there might be some guy along the way that said, 'Hey, listen, it's too far to go. It's too far to travel. I'll see you in a few days,'" Collins said. "But you know what? I certainly feel it's very unfair to criticize Dan Murphy."
The collective bargaining agreement between MLB and the players' association allows for up to a three-day absence after being placed on paternity leave.
Asked if he was surprised about parental-rights criticism in this day and age, Murphy said: "Again, that's the choice of parents that they get to make. That's the greatness of it. You discuss it with your spouse and you find out what you think works best for your family."
Philadelphia Phillies shortstop Jimmy Rollins also went on paternity leave Wednesday.
"We had a really cool occasion yesterday morning, about 3 o'clock. We had our first panic session," Murphy said. "It was dark. She tried to change a diaper — couldn't do it. I came in. It was just the three of us at 3 o'clock in the morning, all freaking out. He was the only one screaming. I wanted to. I wanted to scream and cry, but I don't think that's publicly acceptable, so I let him do it."
The name Noah, by the way, was selected for the biblical significance, not for flame-throwing Mets prospect Noah Syndergaard, Murphy joked.
"I told Syndergaard he's the 'other Noah' in my life in spring training," Murphy said. "The first thing when we decided to do it, I was like, 'People are going to think I named him after the monstrosity that throws like 1,000 miles per hour.' We didn't."
Posted by rogerhollander in Sports.
Tags: baseball, baseball statistics, baseball umpires, david sirota, home plate umpires, major leagues, post-racial, questec, racial bias, racism, roger hollander, US racism, workplace racism
add a comment
 Roger's note: the "Immortal" Satchel Paige would have transcended the racist umpires, but alas perhaps the greatest pitcher of all time only made it to the Show post-Jackie Robinson, at a time when he was already changing his great grandchildren's diapers.
Friday 30 September 2011
by: David Sirota, Truthout         | Op-Ed
Despite recent odes to "post-racial" sensibilities, persistent racial wage and unemployment gaps show that prejudice is alive and well in America. Nonetheless, that truism is often angrily denied or willfully ignored in our society, in part because prejudice is so much more difficult to recognize on a day-to-day basis. As opposed to the Jim Crow era of white hoods and lynch mobs, 21st century American bigotry is now more often an unseen crime of the subtle and the reflexive — and the crime scene tends to be the shadowy nuances of hiring decisions, performance evaluations and plausible deniability.
Thankfully, though, we now have baseball to help shine a light on the problem so that everyone can see it for what it really is.
Today, Major League Baseball games using the QuesTec computerized pitch-monitoring system are the most statistically quantifiable workplaces in America. Match up QuesTec's accumulated data with demographic information about who is pitching and who is calling balls and strikes, and you get the indisputable proof of how ethnicity does indeed play a part in discretionary decisions of those in power positions.
This is exactly what Southern Methodist University's researchers did when they examined more than 3.5 million pitches from 2004 to 2008. Their findings say as much about the enduring relationship between sports and bigotry as they do about the synaptic nature of racism in all of American society.
First and foremost, SMU found that home-plate umpires call disproportionately more strikes for pitchers in their same ethnic group. Because most home-plate umpires are white, this has been a big form of racial privilege for white pitchers, who researchers show are, on average, getting disproportionately more of the benefit of the doubt on close calls.
Second, SMU researchers found that "minority pitchers reacted to umpire bias by playing it safe with the pitches they threw in a way that actually harmed their performance and statistics." Basically, these hurlers adjusted to the white umpires' artificially narrower strike zone by throwing pitches down the heart of the plate, where they were easier for batters to hit.
Finally, and perhaps most importantly, the data suggest that racial bias is probably operating at a subconscious level, where the umpire doesn't even recognize it.
To document this, SMU compared the percentage of strikes called in QuesTec-equipped ballparks versus non-QuesTec parks. Researchers found that umpires' racial biases diminished when they knew they were being monitored by the computer.
Same thing for high-profile moments. During those important points in games when umpires knew fans were more carefully watching the calls, the racial bias all but vanished. Likewise, the same-race preference was less pronounced at high-attendance games, where umps knew there would be more crowd scrutiny.
Though gleaned from baseball, these findings transcend athletics by providing a larger lesson about conditioned behavior in an institutionally racist society.
Whether the workplace is a baseball diamond, a factory floor or an office, when authority figures realize they are being scrutinized, they are more cognizant of their own biases — and more likely to try to stop them before they unduly influence their behavior. But in lower-profile interludes, when the workplace isn't scrutinized and decisions are happening on psychological autopilot, pre-programmed biases can take over.
Thus, the inherent problem of today's pervasive "post-racial" fallacy. By perpetuating the lie that racism doesn't exist, pretending that bigotry is not a workplace problem anymore, and resisting governmental efforts to halt such prejudice, we create the environment for our ugly subconscious to rule. In doing so, we consequently reduce the potential for much-needed self-correction.
      Copyright 2011 Creators.com
David Sirota is a best-selling author whose upcoming book "Back to Our Future" will be released in March of 2011. He hosts the morning show on AM760 in Colorado.
<!–
–>
Posted by rogerhollander in Civil Liberties, Human Rights, Immigration, Race, Racism, Sports.
Tags: amare stoudamire, Arizona, arizona racism, dave zirin, Immigration, immigration law, jan brewer, John McCain, los suns, nba, phoenix suns, Race, racial profiling, racism, roger hollander, sports, steve nash
add a comment
Published on Thursday, May 6, 2010 by
The Guardian/UK
The Phoenix Suns basketball team takes a public stand against Arizona's law that promotes racial profiling of immigrants
by Dave Zirin
A battle has been joined for the very soul of Arizona. On one side, there are the Minutemen, the craven state Republican lawmakers, Governor Jan Brewer, and the utterly unprincipled John McCain, all supporting SB 1070, a law that codifies racial profiling of immigrants in the state. On the other are the Sun Belt residents who protested on 1 May, the students who have engaged in walkouts, and the politicians and civic leaders calling for an economic boycott of their own state.
This battle has also been joined in the world of sport. On one side is Major League Baseball's Arizona Diamondbacks. Owned by state Republican moneyman Ken Kendrick, the team has drawn protestors to parks around the US. On the other side, we now have the NBA's Phoenix Suns. On Tuesday the news came forth that on Cinco de Mayo, the team would be wearing jerseys that say simply Los Suns. Team owner Robert Sarver said, after talking to the team, that this will be an act of sartorial solidarity against the bill. Their opponent, the San Antonio Spurs, have made clear that they support the gesture.
In a statement released by the team, Sarver said: "The frustration with the federal government's failure to deal with the issue of illegal immigration resulted in passage of a flawed state law. However intended, the result of passing this law is that our basic principles of equal rights and protection under the law are being called into question, and Arizona's already struggling economy will suffer even further setbacks at a time when the state can ill-afford them."
He followed up the statement by saying to reporters: "I looked around our plane and looked at our players and the diversity in our organization. I thought we need to go on record that we honor our diversity in our team, in the NBA and we need to show support for that. As for the political part of that, that's my statement. There are times you need to stand up and be heard. I respect people's views on the other side but I just felt it was appropriate for me to stand up and make a statement."
After Sarver spoke out, the team chimed in against the passage and signing of SB 1070. Two-time MVP point guard Steve Nash, who in 2003 became the first athlete to go on record against the Iraq war, said: "I think the law is very misguided. I think it is unfortunately to the detriment to our society and our civil liberties and I think it is very important for us to stand up for things we believe in. I think the law obviously can target opportunities for racial profiling. Things we don't want to see and don't need to see in 2010."
All-Star power forward Amare Stoudamire, who has no political reputation, also chimed in saying: "It's going to be great to wear Los Suns to let the Latin community know we're behind them 100%."
After the story broke, I spoke on the phone with NBA Players Association president Billy Hunter about the Suns audacious move. "It's phenomenal," he said. "This makes it clear to me that it's a new era. It's a new time. Athletes can tend to be apolitical and isolated from the issues that impact the general public. But now here come the Suns. I would have expected nothing less from Steve Nash who has been out front on a number of issues over the years. I also want to recognize Amare. I know how strident Amare can be and I'm really impressed to see him channel his intensity. It shows a tremendous growth and maturity on his part. And I have to applaud Bob Sarver because he is really taking a risk by putting himself out there. I commend them. I just think it's super." He said that the union would have their own statement out by the end of the week.
This kind of political intervention by a sports team is without precedent and now every athlete and every team has an opening to stand up and be heard. Because when it's all said and done, this isn't just a battle for the soul of Arizona. It's a battle for the soul of the United States. Here come the Suns indeed.
© 2010 Guardian News and Media Limited